TEM-AC which has succesfully executed ventilation and air-conditioning systems in multi-purposed buildings and is specialised in swimming pools, apartments and industrial facilities, hotel and administrative buildings, malls, entertainment centers and sports complexes. One of the main principles of creating an effective and suitable ventilation system is executing the same by
taking into consideration the compatability between architectural design of
the building and the energy consumption costs. In order to establish a qualified system, foreseeing inconsistencies that might occur during installation will eliminate additional costs.
• Galvanised – Black Steel Ducts
• Heat Recovery System
• Smoke Removal Fans, Jet Fans
• Hepa Filter Applications
• Air-Contioning Plants
• Fabric Air Ducts (Showroom,
swimming pools, office
buildings etc.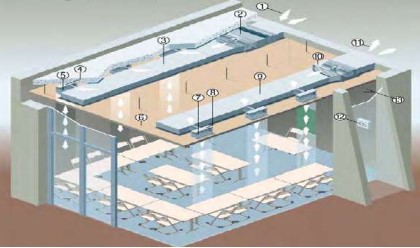 Industrial Ventilation
Providing suitable working and
living conditions by aspirating
dust, smoke, gas and steam that
exist/occours in industrial
environments.
Air conditioning of the
environment in accordance
with optimum temperature and
humidty levels as fulfilling the
fresh air needs by applying
suitable air filtration methods.
• Galvanised – Black Steel
Ducts
• Industrial Fans
• Dedusting Systems
• Smoke Removal Fans
• Electrostatic Filters
• Hepa Filter Applications
• Industrial Filtration
• Fabric Air Ducts
(Food Industry, Swimming
Pools) Central Heating & Cooling System Central Heating&Cooling System
• Chiller
• Boiler
• Fan Coil, radiator
• Underfloor Heating System
• Unit Heater,
• Air Curtain
• VRV System
• Heating Pump
Individual Systems
• Central Heating Boiler
• Split Airconditioner